Weybridge 10k – December 2022
Dec 04, 2022
£12.00 – £150.00
15% event capacity filled
Entry Limit: 4000
Event Details:
Sunday | December 04, 2022
12/4/22 8:00 am - 12/4/22 11:00 am
Cowey Sale Car Park, Shepperton, Walton-on-Thames, KT12 1AR
Weybridge 10k – Sunday 4th December 2022
Start Times: 10k: 9:00am | 2k Fun Run: 8:00am
Come and join us for the road closed Weybridge 10k on Sunday 4th December 2022. This 10k scenic route is set against the backdrop of Walton Bridge. With a mix of the town-centre and rural, riverside scenery, this route has some for everyone. Great for beginners and experienced runners alike, this race has people coming along for the outstanding atmosphere.
Starting from Walton Lane, the chip-timed 10k follows the River Thames towards Weybridge Town Centre. It then winds back through the finish line, for the first time, where you can experience the cheering crowd before heading back towards Weybridge along Oatlands Drive. Once past the Weybridge Monument, there is a scenic trip back along Walton Lane to the finish line.
ONCE YOU ENTER YOU WILL RECEIVE A CONFIRMATION EMAIL. MORE INFORMATION ABOUT WHERE TO COLLECT YOUR NUMBER WILL BE SENT CLOSER TO THE EVENT – ENJOY!
We have been extensively researching into what runners consider important, and sustainability is fast becoming the most important area. Click HERE to see what RunThrough is doing for sustainability.
T-Shirts at events have been a hot topic mainly around them not being a high enough quality to wear on a regular basis. So we have decided to tackle this by offering a baby blue T-Shirt (Women – CLICK HERE | Men – CLICK HERE) with a retail value of £25.5 (inc postage) for £12 (inc postage) with the addition of the event logo printed on the chest.
We can do this with our partner RT Kit as part of a strategic decision to not only raise awareness about the quality of the product but also to counteract the increasing costs incurred in event production in a post-COVID world.
Good Luck with your from Team ACTIPH. ACTIPH Water is the UK's first alkaline ionised bottled water with the highest pH in Europe. Through a unique ionisation process, our purified spring water is infused with a blend of electrolytes and supercharged to create a smooth and clean tasting alkaline water with a pH9+. ACTIPH is the healthy choice as you restore and maintain your natural balance, enabling you to live life to the fullest and get the most out of every day. All ACTIPH bottles are 100% recyclable and BPA free including the cap and label which makes us unique to other bottled waters and we believe gives us a clear sustainability advantage. Please remember to recycle in a recycling bin after the race. Take your hydration to a higher level and grab a bottle of ACTIPH at the finish line.
You'll also be able to grab a LOVE CORN snack pack following your race, and you can find out more about LOVE CORN and their products below and on their website HERE.
Hello, Howdy, Hola! We're LOVE CORN, the first premium, crunchy corn snack!  Our delicious crunchy corn kernels are packed with flavour and made with love.  We're perfect on-the-go, packed in a lunch box, sprinkled on a salad or paired with your favourite refreshing beverage.  We're delicious, plant based and gluten free – meet your new favourite snack! 
Give us a crunch and get 20% off using the code RUNLOVE20 – just visit lovecorn.co.uk
LOVE,
CORN
P.s. we're crunchy, we're delicious!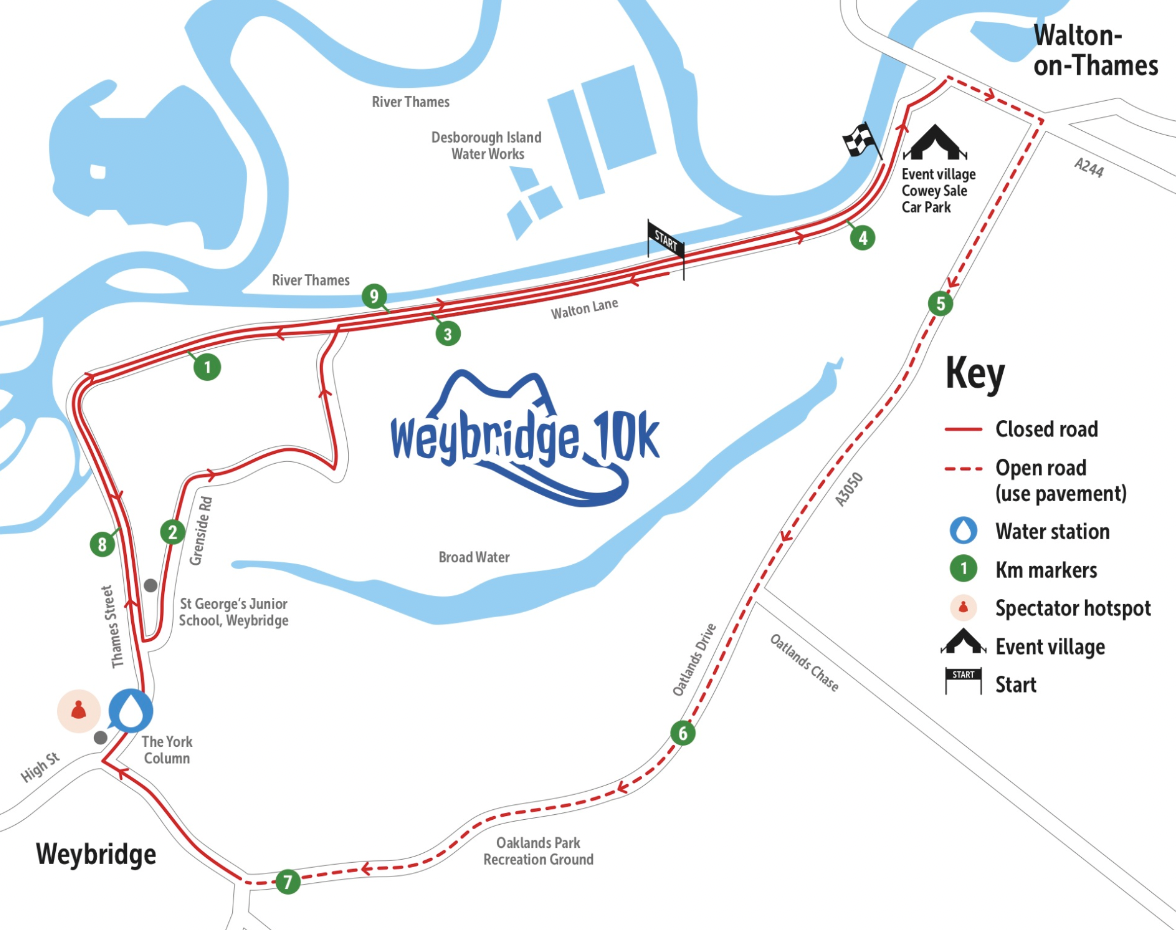 HOW TO GET THERE

Cowey Sale, Shepperton, Walton-on-Thames KT12 1AR, UK

Parking
Please note that there is no parking on site at Cowey Sale Car Park or at Vandals Club due to the course and road closures being in place along Walton Lane.
Parking is available at The Heart Shopping Centre, 53 New Zealand Avenue, Walton-on-Thames, KT12 1GH. It is then a 10 min walk/warm up jog to the event village in Cowey Sale Car Park.
You can also find a number of car parks available in Weybridge Town Centre on Parkopedia. You can follow the footpath on Broadwater Walk which will take you in to the event village.
All participants are encouraged to car share, use public transport or walk/run to the venue where possible.

By Car
There will be a number of road closures on the day which will be confirmed closer to the event date.
Baggage
We will have a secure area where you can leave your baggage. We recommend you bring as little baggage as possible. Your baggage tag is attached to your race number, you simply tear it off and attach to your bag. To collect, all you have to do show you number to the baggage tent staff and they will help you find your baggage.
Refreshments
There will be water provided at the finish line.
During the race
There will be marshals all around the course as well as km signs and arrows. Please be aware that there will be spectators and members of the public sharing areas of the route.
Results
Results will be available on www.runthrough.co.uk after the race.
Pictures
We will have a photographer taking a few snaps of the race and they will be on Facebook after the race so be sure to check it out and see if you can spot yourself.
Things to note!
For updates leading up to the race, please check out our Facebook page – http://www.facebook.com/runthrough and 'Check In' on race day or on Twitter http://www.twitter.com/runthroughuk / @runthroughuk use the hashtag #RunThroughUK in the build up to the race 🙂
If you #RunThroughUK on Instagram with your race day collages and the best ones will feature on our page!
Please email
[email protected]
with any questions.